Marion 7200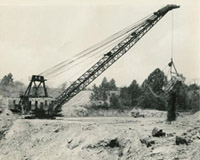 Check Out Our Photo Galleries on the Marion 7200
Coulson's Photographs
Miller's Photographs
Netta's Photographs
Phillippi's Photographs
Suckoe's Photographs
Tyjeski's Photographs
--------------------------------------------
Marion 7200 Sponsors

1) Financial
2) Volunteers
3) Provided Equipment/Tools/Supplies/Technical Support/Services

Howard Bowers Contracting
Ohio Valley of the Histroical Construction Equipment Association
Mike Hartman
Jerry Jacobson
Ohio Central Railroad System

Ray Miller
Ray Miller's Excavating

Butch Soehnlen
Soehnlen Bros Sand & Gravel

Bill Sheckler
National Aggregates/Sheckler's Excavating

Don Steiner
Steiner Excaving Company

Olympic Mill Services

Rhuben Bradshaw

Mike McClure

Steve Netta

Casey Miller

Donnie Cairns

Dale Cairns

Mike Collette

Dick Slemmer

John Suckoe

Dale Tyjeski

Mike Haskins

Brian Haskins

Joe Egger

Ron Tallmadge

Gideon Troyer

Pete and Jonas Beachey

Otto Electric

Dan Miller
Pleasant Valley Ready-Mix Concrete,Inc/Pleasant Valley Trucking,Inc

Edward A. "Rusty" McGinness

Fred Phillippi

Dale Davis

Leo & Barb Weinhardt

Roy & Debra Hamilton

David & Melinda Simmons

Dean Freytag

Louis & Erma McMaster

Ted Pyle

Dick & Virginia Deuker

Mark DeAutremont

Gary R. & Sharon Ross

Paul Motion

Gladys W. Faherty

Jim Carter

Heinz Althaus

Antique Caterpillar Owners Machinery Club

Bryan Coulson

TAMHC

Jean Barylak

Doug Baum

Ken Tayler
Ohio Cat

Kurt Elliott
Elliott Excavating

Holmes Rental Station

Dennis G. Troyer

Doyle "Smitty" Smith

Tyler Cairns

James Brothers Coal Company

James Family
Boich Group
Austin Powder Company
Buckeye Industrial Mining Company
David Zimmerly
Mr & Mrs Ted Hunter
Martin McKim
McKim Enterprises
Daniel Mozer
D.S. Mozer Tree Service
Carlos Moser
Bucyrus International
Andy Koile
Nick Soenlen
Soenlen Bros. Sand & Gravel
Brian Soenlen

Tom Saffell

Ron Jedlicka
Buckeye Central Scenic Railroad
Mike Jedlicka
R.P.M. Industries
Pete Jedlicka
R.P.M Rigging
Ted Hawk
Tom Hawk
Ryan Hawk
Taylor Imes
Dan Morsheiser
Bill Bradshaw
Gale Deubner
Antique Truck Historical Society-Buckeye Vintage Haulers Chapter
Dan Baker
Daylan Baker
Austin Touville
Don Martin
Donald L. Stewart
Donni-Brook Farms
Dan Van Ness
Greenleaf Farms & Excavating
Kurt Van Ness
Mike Foley
Dennis Cambell

Attendees that made donations at various 2004 antique machinery & railroad events we displayed at.

Attendees that made donations at various 2005 antique machinery & mining industry trade shows.

This list is incomplete & ongoing.


Thanks to those who helped with the photos in anyway.

Photo Help:

Steve Netta

Bryan Coulson

Jim Fleming

Becky Miller

Ray Miller

Casey Miller

Fred Phillippi

John Suckoe

Dale Tyjeski

James Family

James Brothers Coal
Marion 7200 News:
Volunteers from 4 states began dismantling the Marion 7200 in Mid-September 2004. Many hours and weekends have been put in dismantling and getting it ready for transportation.

Four legal loads was transported to HCRHP grounds on August 6, 2005. An additional load with the Cummins engine and other parts was transported to Soenlen Bros. Sand & Gravel. They will be overhauling the Cummins Engine. On October 15, 2005 the Fairbanks-Morse engine was transported to Ted Hawk's. The Hawk family is doing maintenance work on the engine and plans to exhibit the engine with photos of the dragline at antique machinery shows.
In early March 2006 the tub, main deck, boom, side frames, and walking towers was transported the HCRHP grounds. All remaining small pieces was transported to the ground by the end of March.
Many volunteer hours have been given to this project. Without the volunteers, support equipment, and donations the project would not be successful. The project was saved by the dedicated volunteers and support equipment providers.
Funds are currently being raised for the Marion 7200 fund. Fund supports reassemble, acquisition, restoration, and maintenance costs.
Your Support is greatly appreciated.
For information e-mail marion7200@hcrhp.org.
Click Here to download the mail form. PDF format.
Click Here for donations.
Marion 7200 Walking Dragline Information:

Donated By James Brothers Coal Company and the James Family

Year: Early 1950's

Boom: 120ft

Bucket: 7 yard

Engines: Fairbanks-Morse
Cummins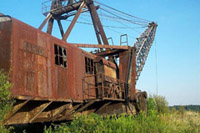 Marion 7200 Walking Dragline History

Marion Power Shovel of Marion, Ohio, entered the walking dragline market with the introduction of the 7200 model. The Model 7200 proved to be Marion's second biggest seller, with 57 units built between 1939 and 1957. Used widely in both construction and surface mining, the 7200 also saw use in larger projects, including the construction of the Delta - Mendota Canal in wesley, California.

The Last Marion 7200 produced was purchased by Marquette Cement. It was later sold to Collins Mining Company, and was operated by them until being idled and scrapped. Thanks to the generousity of Rhueben Bradshaw, the HCRHP has the builders plate from this unit. Plans are to have it displayed on, or near, the 7200 once preservation is complete.