Silver Spade Preservation Effort: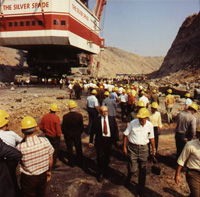 GOODBYE TO THE SILVER SPADE
CONSOL Energy 's last, and the largest super excavating shovel left in the world was scrapped. The Harrison Coal and Reclamation Historical Park, Inc., friends and supporters were not able to raise the 2.5 million dollars requested by Consol to purchase The Silver Spade and do the required reclamation surrounding it.
The Spade had not made it up out of the pit when it broke down in the middle of April 2006, leaving some high walls standing, thus presenting the problem of removing the high walls and doing specialized reclaiming work around the Spade to meet state and federal standards.
CONSOL Energy, owners of The Silver Spade, asked for 2.5 million dollars to purchase the shovel, which included the salvage value of approximately $700,000; 1.6 million to do the specialized reclamation surrounding the Spade, and other costs. The HCRHP Inc. had raised nearly 1/3 of the amount in the form of cash donations, pledges and the promise of a loan against the Spade; however, we could not raise the remainder of the money by Consol Energy's deadline. On the state level $700,000 was asked to be included in the 2007 Ohio budget by an area state elected official. The funding had support from both parties including an elected official from the Columbus, Ohio area. We thank the area state & federal elected officials for their support, also.
We would like to think that had the Spade made it up and out of the pit, we would have a different ending to this story! What a unique tourist attraction she would have made!
Had this project been successful, the Spade would have belonged to Harrison County and we wish to thank former Harrison County Commissioner Chairman, Dennis Watson, Commissioners Phil Madzia, and Bill Host, and former Harrison County CIC Director, Chris Copeland, for their efforts.
Our gratitude also needs to be extended to the news media - our local papers (particularly the Harrison News Herald, Steubenville Herald Star, Times Leader, Times Reporter, Free Press Standard, Wheeling Intelligencer, Wheeling New- Register, The Daily Jeffersonian, and Farm & Dairy), the many newspapers throughout Ohio & surrounding states, the many tri-state area radio stations, and television Channels (WTOV 9 and WTRF 7), and the support we received from West Virginia Public Radio, for promoting our efforts to save the Spade. We thank the many construction & mining magazines, construction & mining trade organizations, industrial and heritage organizations for promoting our efforts. We thank our residents of the Ohio Valley and all over the globe who did care enough to send in their contributions and pledges to try to save this historic machine. Her likes will never be seen again!
Where do we go from here? The Harrison Coal and Reclamation Historical Park Inc. will continue to uphold our mission to acquire and preserve mining and reclamation equipment to preserve Ohio 's mining heritage. CONSOL Energy has already donated components of the Silver Spade, such as a bucket, hand and foot controls from the cab, pieces of the electric cable etc. and we have asked them to donate some land on which to build our Surface Mining Center.
Our park has over 20 pieces of machinery, some of it in operating condition. We plan to reassemble our Marion 7200 dragline that was brought to our park last year, and as we progress, we hope to build a museum/visitor center, miner 's memorial, have a reclamation area demonstrating reclamation and land management techniques first introduced here in the Ohio Valley, our machinery park and demonstration area, and lots of parking area available when we host some steam shows and other events.
Can we do all this? Sure we can, but we need your help. We have lost The Silver Spade, but not the spirit that she inspired. Following the news that the Spade was being scrapped, we received many previously pledged contributions to help turn our dream park into a reality, and are overcome with gratitude for this support. If you made a pledge and have not already remitted a contribution, please consider honoring that amount or a portion of it. Those of you interested in helping restore what we have can help by joining our 501 (C) 3 non-profit organization, by sending in contributions to make this happen, or by volunteering your time and expertise to work on our equipment to get it in working order.
Lastly, we thank our core group of local members who have worked so long on the Silver Spade efforts and who will continue to work towards the historic preservation of our coal heritage. Thank you all, Marilyn Monzula, Dale Davis, Therese Mizer, Don Richards, Fred Phillippi, Bryan Coulson, Martin McKim, Barbara Pincola, Carl Streley, Domenick Topazio, Blanche Topazio, Marcia Bedway, George Bedway, Steve Netta, Ray Miller, Casey Miller, and Steve Smith.
So --- we say goodbye to The Silver Spade. She worked for 40 years, removing the overburden to uncover the coal, providing jobs and income to Harrison County and the Ohio Valley. Her presence will be missed, but her memory will not be forgotten, nor will the Mountaineer or GEM of Egypt, or the hundreds of miners who lived and worked here.
We shed some tears for what will never be we turn the page, and go on with what can be .
For further information please contact Claren Blackburn at 740-937-2460 or the Cadiz Visitor Center at 740-942-1102.
LIFE AFTER THE SILVER SPADE


MISSION STATEMENT - The mission of the Harrison Coal and Reclamation
Historical Park Inc. is to "acquire and preserve mining and reclamation equipment and related materials, to preserve Ohio's mining heritage."

As most of you know, our biggest goal of acquiring "The Silver Spade" was
not realized and she is now "scrapped" and gone. We were able to save some
of the Spade components such as the bucket, cab, operator's peddles etc.
(list to follow later in letter) Consol Energy, owners of the Spade, and the scrapping firm who had the bid on the Spade, contributed these items. We thank them for this participation in our park efforts.

In conjunction with our mission statement, we now are looking for land on which to build our park. Since we formed the park in 1994, we have been on leased land, 1st, from Harrison County in the Industrial Park off State Route 9 near Cadiz, Ohio and currently west of New Athens, Ohio on land
leased from Consol Energy.


We have asked Consol to donate some land to us for a permanent home but have
not had direct conversations since scrapping began. Other avenues are also
being checked. In order to receive any grants or monetary help from government agencies, we need land of our own to apply.


SHORT RE-CAP OF SILVER SPADE EFFORTS

December of 2006, Consol Energy Inc. announced retirement of "The Silver
Spade", the last of the giant earth excavators left in the world. It had
begun digging in 1965 and breakdowns, lack of parts etc. doomed her to shut
down.


After 15 years of working to try and save this last of its kind, in the end,
Consol wanted too much money (2.5 million) for purchase and specialized
landscaping around her. In April, 2006, she broke down before getting top
side out of the pit. She was boarded up, cables disconnected and there she
sat while we worked to raise the funds necessary to purchase her. The
efforts failed and now this past summer, "The Silver Spade was scrapped ----- like all the other giant excavators except Big Brutus out in Kansas.


What a tourist attraction she would have been!!! Was there really ever a
hope of saving this machine??? We'd like to think that had circumstances
been different it might have happened. In retrospect, probably not, but we
tried and we again thank all of you who pledged, who donated, who spread the
word, who supported us in any way.


SILVER SPADE PARTS LISTING


The following is a list of items we received from The Silver Spade and supporting equipment, courtesy of Consol Energy and Scrap Exchange LLC.


A fifth intermediate propel gear from the 1950 - B shovel.

A 2nd (middle) intermediate swing case gear.

A hoist bull gear from a 5561 Marion shovel.

Complete operator's cab with seat, foot pedals, hand controls etc. Scrap Exchange LLC out of Hudson, Ohio arranged for us to get the cab and Consol had already approved the controls.

A Spade bucket located at the shop yard, minus the teeth and stick. The current bucket that had been in use was impossible to move out without first
scrapping it.

Four hooked together track pads from the travel gear.

The boom support cables on a reel that shows actual size of cable.

From the warehouse an assortment of gears.

20 foot piece of electrical cable that supplied power to the shovel.

A swing segment and couple of rollers that the house rolled on.

6 mats on which to set the bucket.

One point shieve and cable.

The two B. E. signs that were on the Spade. These are courtesy of Scrap
Exchange LLC. One will go to the Pusarich Public Library (Harrison County History of Coal Museum) Cadiz, Ohio.


Most of these items have been moved to our park site except the bucket, which
we would like to wait to move until we have a permanent location.