Insley L Dragline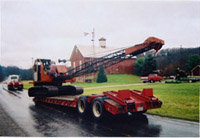 Coulson's Photographs
Miller's Photographs
Netta's Photographs
Donated by: Lawrence Wittmer
Alpine Designs/21st Homes

Year: 1966

Bucket: 5/8 yard

Boom: 35ft

Engine: 4 cyl. Caterpillar (direct start)
Insley L Dragline news:


In early 2005 the Insley L dragline was moved to a members farm for mechanical work. The bucket and center section of the boom was stored inside another members building.
In late August-early September 2005 the Inlsey L was cleaned, received new cable, and put the the test digging a stream. The Friday before the start of the 43 rd annual Stumptown Steam Threshers the Insley L was transported the HCRHP Grounds. It was operated during the 2nd Annual Old Construction & Surface Mining Equipment Show held in conjuction with Stumptown.
During the 3 rd Annual Old Construction & Surface Mining Equipment Show in 2006 the Insley L was in operation and some maintenance was done.
In June 2007 the two clutches was removed and relined. During a scheduled work day the relined clutches was put in and dragline was in operation for adjustments. More Clutch relining and mechanical work will need done in the future.
Click Here to download the mail in donation form. PDF format.
Click Here for donations.
Click Here to visit the Old Construction and Surface Mining Equipment Show photo gallery.
Insley L Dragline Sponsors

1) Financial
2) Volunteers
3) Provided Equipment/Tools/Supplies/Technical Support/Services

Ohio Valley Chapter of the Historical Construction Equipment Equipment Association
Dusty Welch
Mark Troyer
MJ Excavating
Myron Graber
Sugarcreek Builders
Tony Schlegel
Steve Netta

Donnie Cairns

Ray Miller
Ray Miller's Excavating

Casey Miller

Bill Scheckler
National Aggregates/Sheckler's Excavating

Jim Carter

Bryan Coulson
Mike Collette
Cody Collette
Joe Harrison
Harrison Auto Parts
Sugarcreek Auto

Bill Pugh
Andy Koile

This list is incomplete and ongoing

Thanks to those who helped with the photos in anyway.

Photo Help:

Steve Netta

Ray Miller

Casey Miller

Becky Miller

Bryan Coulson

Jim Fleming